WHAT IS G1 THIN CLIENT PCS?
What Is G1 Thin Client Pcs?
"G" for Green Computing…
G1 Thin Client PC functions in a concept of Server and Client technology / Terminal-based / centralized host,
in which Multiple Thin client users will log in to a server with there assigned login ID's and they can Run Applications on the host computer, Access files, Database, Network Resources and so on…
Each G1 Thin client session is independent with their own private desktop with their data, All the applications of every day life can be used to name a few are – MS office, Browser based, Tally, ERP packages and Custom Built software's
G1 Thin clients can used in all the sectors like Office | Educational | Healthcare | Government | Retail
How It Works?
Powerful computer will be installed with all the software's and application and made as thin client server and thin clients typically connects to this server through Remote desktop connection over LAN or wifi that enables users to virtually share a thin client server for all its needs like Data and application processing…
This will drastically reduce the cost of purchasing a full computer like hard drives, ram, processor, mother board and its software licenses for every computer users…
Desktop Virtualization – Utilizes Unused System Hardware Resources
Today, even entry-level PCs feature 3.0 GHz with 4 core processors and high-performance RAM. It is extremely wasteful for users to use these computing powerhouses for simple work such as word processing, surfing the Internet and sending or receiving e-mails.
Remote desktop Protocol of thin client server divides computer resources into independent sessions, Users can individually enjoy a high-quality PC experience… so that all users can simultaneously share a server resource and data.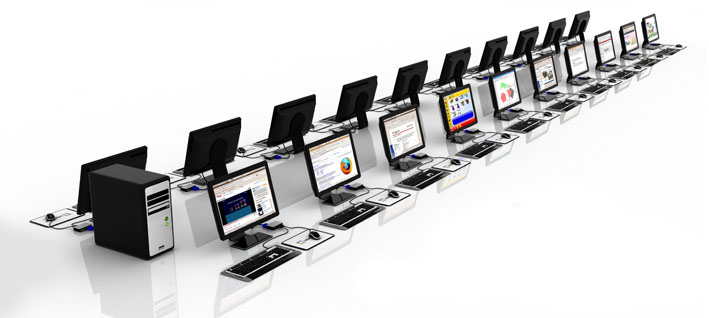 Quick facts
Ultra low cost makes computing affordable everywhere

Works with standard office software

No re-training of staff or users

Mounts on monitors for clutter-free desks

Boots in seconds

Reduces energy consumption up to 90%

Data can be secured on a single shared PC

Supports Linux and Windows