THIN CLIENT ARCHITECTURE AND SOLUTION FOR OFFICE
Medium & Enterprise Business solution (Server based network computing)
Today, just about every single business | office depends on computers.
Thin client low cost computing solution provides your staffs and other members can connect to centralized server; creating a secure, reliable, and high performance desktops and getting the job done by using regularly used software's like word processing, spreadsheets, email, enterprise and web applications, and the Internet..
Our low-cost thin client solution taps the unused capacity and shares it among other thin client users. The solution is rugged, durable, and easy for IT Administrators to deploy more than 20 virtual desktops from 1 computer/server. Each user gets an independent and high performance computing experience.So you're likely to see a dramatic drop in your IT costs.
Low cost thin client solution reaches out to business.
Cloud Computing Thin Client
We help businesses & enterprises of all sizes simplify their information technology infrastructure via cloud computing thin Client. This cost effective and "Green" option is gaining ground in the Virtual Desktop Infrastructure Market. The benefits of combining powerful thin client devices with cloud computing resources are many which include improved security, cost savings, greater remote accessibility and higher user experience.
Reduce work area clutter, noise and heat
IT staff are not the only ones to benefit from G1 thin clients. End-users love the extra work space (no PC under the desk, no need for separate speakers, reduced cable clutter). And with fewer PC's humming, computer fan noise goes down. Finally, in work areas with lots of end-users, desktop PCs can heat up the entire work area. Reducing the number of heat-generating PCs creates a more pleasant work area for everyone.
Here is what G1 thin client solution can do for your company
-Cut PC acquisition costs by 60%
-Dramatically reduce IT complexity
-Lower electrical consumption by 90%
-Increase security from data theft and virus
Desktop Virtualization for Enterprise
Enterprise IT departments is realizing virtualization is not just for servers. Delivering more inexpensive desktop computing solutions through virtualization also drives down operational expenses. Corporations worldwide are turning to G1 thin pcs for virtualization solutions that are optimized for large scale use. G1 thin pcs delivers the secure virtual desktop infrastructure that simplifies PC support while reducing costs up to 90% per user.
Challenge
Desktop PC management is overly complex. IT departments struggle to effectively manage the vast number of desktops deployed across the enterprise, while also reducing operational costs. G1 thin pcs addresses growing enterprise complexity with simplification.
Solution
G1 thin pcs separates a desktop PC environment from a physical machine to a client-server computing model. That is, a user's desktop is hosted remotely and accessed via a thin client device over the LAN/Internet. A user no longer has a physical PC.
Easy-to-use technology designed specifically for schools
Thin client solutions are plug-and-play set up, and an automated configuration wizard designed specifically for nontechnical professionals, teachers and students can start using the computers quickly and easily.
– Add your content… Save up to 80% on hardware costs
-Choose Windows or Linux OS for any combination of workstations
– Electricity cost savings will pay back for the G1 thin clients in 2 years or less
– Reduce school's carbon footprint by lowering electricity and A/C usage
– Computer labs – Provide clutter-free, expanded computing with less maintenance
– Libraries – Shhh! Only 1 PC provides a quieter environment
– Administration areas – Reduce support headaches
– With Classroom Control Tools, see what each student is doing on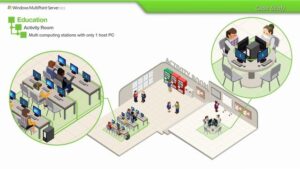 Teachers can centrally manage and monitor the computer stations with ease
– Send students messages
– Remotely take control of a student's station
– Share files with and between students
– Create or delete student accounts, and change passwords
– Add a new application to all computer stations by installing it only once on the host computer
– And much more!
G1 thin pcs cures your computing woes for hospital
Here's the good news: With the conversion to electronic medical records sweeping the healthcare industry, your patient records and critical data is now more secure and more readily available to your colleagues who depend on it. The resulting increased accuracy means fewer errors, saving lives every day.
It is a daunting challenge to balance costs against delivery of services.
Here's the best news: G1 thin pcs has a cure for the high cost of computing-our cost-effective virtual desktops. With quality guaranteed products and heart to heart after-sales service,
G1 thin pcs cures you're computing woes.
-Cut PC acquisition costs by 60%
-Lower electrical consumption by 90%
-Dramatically reduce IT complexity
-Increase security from computer viruses and malware
-The access device has no fan, so it doesn't spread harmful bacteria or contaminants (and is easy to sanitize)
-Improve HIPAA compliance, as patient data can be stored and secured on a centrally protected shared computer
How does it work?
The G1 thin pcs is based on a simple fact: today's PCs are so powerful that the vast majority of healthcare and business applications use only a small fraction of the computer's capacity.
G1 thin pcs virtualization software and hardware tap this unused capacity so that it can be simultaneously shared by multiple users, spreading out the cost of the PC, and typically providing four times the number of stations for the same money. Each user's station has it's own keyboard, screen, settings, applications, and data files-so it's just as if they were working at an independent machine.